In my previous post about the Mobility Field Day was primarily non-technical. In this post I want to briefly discuss the vendors and their presentations.
Wyebot:
I have been using Wyebot for a couple of years and fairly familiar with Wyebot and it's capabilities so I was looking forward to hear them present. I was also curious to see what is on the roadmap and provide some of my feedback directly.
Lee (@wirednot) has written excellent blog posts on Wyebot that I would like to share – Wyebot Brings Wi-Fi 6, More to Its WLAN Monitoring Platform
I've also written couple of blogs on Wyebot located here:
Roger Sands opened up their presentation discussing Wi-Fi in different industries and brought up an excellent pain point that we all face or have faced at some point. Wi-Fi issues and the long complicated process to troubleshoot them.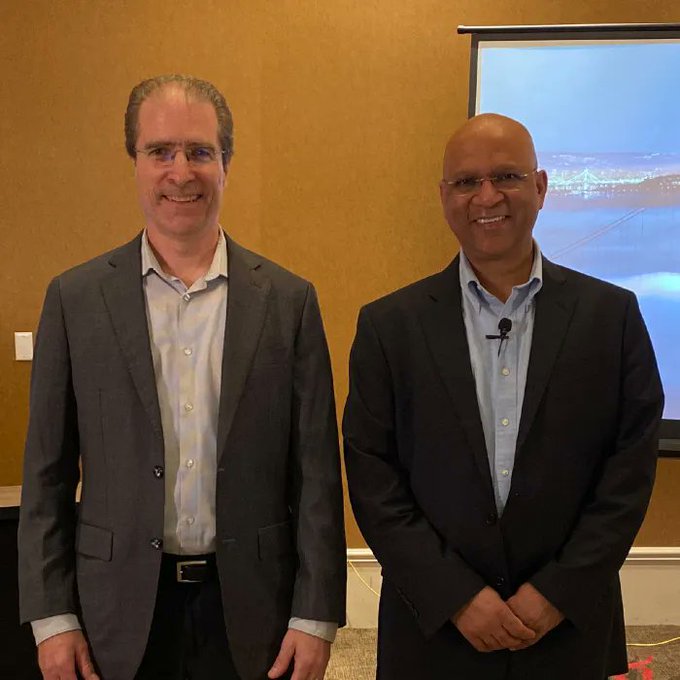 Quick snippet of three crucial features and benefits Wyebot offers
Autonomic Wi-Fi

Captures frames continuously
Analyzes the frames
Provides solutions

Synthetic Network Testing

Ability to act like a client
Run quality checks
Report user experience

Historical Analytics

Cloud platform allows to go back in time and take a look at the analytics
pcap storage is around 128 Gig and can be expanded using the USB port.
It's ability to act like a client in addition to a sensor is an excellent feature. I'd love to see a small form factor that can be installed near a user or just placed on the desk instead. Something with a 2×2:2 radios. Second thing I'd love to see in the dashboard is ability to possibly track a specific client and capture roaming behavior of that client. Third, event based pcaps that get uploaded to the cloud would be great.
Lee (@wirednot) brought up an excellent use case/idea of handheld version of Wyebot that can perform some of these functions.
Wyebot Client Agent:
We do not have details on this, but "Wyebot Client Agent" caught my attention. Having a client agent that can communicate with the Wyebot sensors can provide additional valuable insights about client experience in the dashboard. Data related to roaming issues, driver issues, client configuration changes and help Wi-Fi operators create better baselines. Additionally, with so much of the work force working remotely, Weybot Client Agents can provide valuable data about those clients and performance.
Wyebot Presents at MFD8:
Watch the full videos, Wyebot Presents at MFD8.
Arista:
When I used and deployed Arista switches for the first time in the Data Center environment back in 2017 I was impressed. Being a Cisco guy moving to Arista CLI was easy, excellent performance and easy to implement architecture. With their acquisition of Mojo Networks in 2018 they entered the Campus and Edge networking market.
Arista presenters were, Jatin Parekh, Kumar Narayanan, Nadeem Akhtar, Pramod Badjate, Sriram Venkiteswaran. Arista presentation was opened by Pramod Badjate.
Pramod Badjate talked about something amazing Arista does; they plant trees in the name of each MFD delegate. This is awesome, great job Arista for doing this.
There are two things that sparked my interest. 1) MSSG – Micro Security Segmentation Group and 2) Live client capture
With Security, segmentation, zero trust being some of the key topics being discussed every where and organizations looking at different ways to secure and segment their networks/users, offering an easy to implement solution is catchy.
MSSG – Micro Security Segmentation Group:
This is a very interesting concept and I am extremely interested in testing out the MSSG technology. Some bullet points from their presentation:
Control Plane – Distributed
Data Plane (Flexible)

Local Bridging
Tunnel Mode

Per SSID
Switch becomes the tunnel aggregation (VXLAN)
Switches support MLAG
Ability to locally switch traffic for an SSID and tunnel traffic based on where I need to drop it off using the natively available interface is extremely valuable. I'd be very much interested in seeing this in action and the troubleshooting aspect of these scenarios when things don't work or when clients are roaming etc.
Arista Live Trace:
Live trace option option collects information from all the access points. You pick a client and then start tracing it. System allows a live view of all the frames and shows all data related to Machine State, 4 Way Handshake, Roaming, RSSI. No screenshots unfortunately, but if I am able to test drive it, I will update the post.
Arista Presents at MFD8:
Watch the full videos; Arista Presents at MFD8.
Ventev:
Ventev provides solutions that compliment and help with lots of different wireless deployment scenarios such as antennas, mounts, solar power, compliance.
Ventev discussed multiple different products, but one specific product that I am interested in discussing here is their ATEX C1D1 product.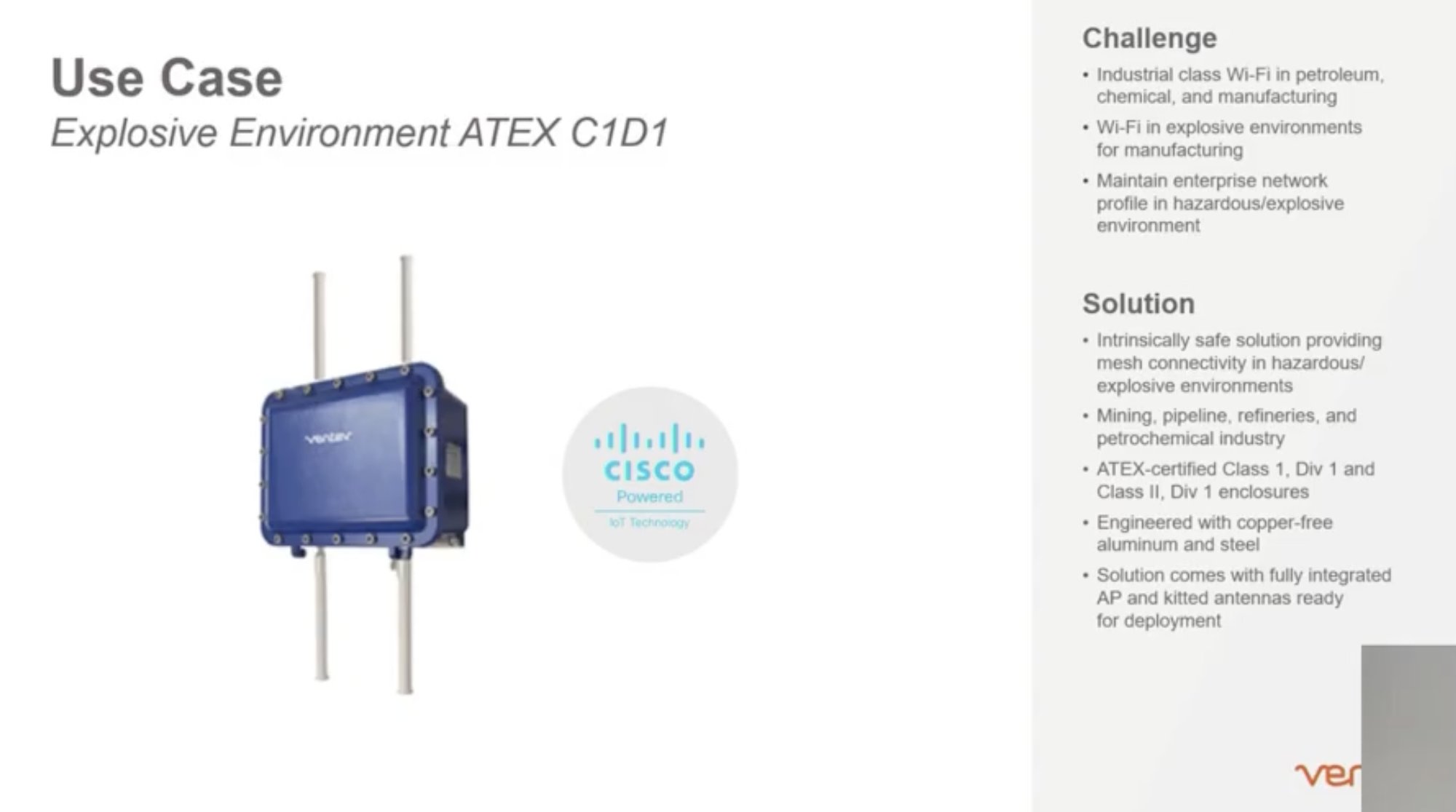 Hazardous environments with chemicals, oil, gas and inflammable products require special compliance, policies and procedures when installing and/or working with the equipment. You can not install simply outdoor rated IP65 or IP67 access points or network equipment in those areas. There are two Classes here; Class 1 Div 2 and Class 1 Div 1. To read more about different classes use this link.
Ventev ATEX C1D1 product makes an excellent use case if you want to take your non compliant devices and make the deployment compliant to C1D1 rules. NOTE: As Jared mentions in the video, this is a complete build, not just a case. Which means you get an access point and the case as a complete single SKU item for C1D1 and for C1D2 compliance.
I asked Jared, if they are able to customize this for other vendors? His responded with, yes on a case by case basis.
Ventev Presents at MFD8:
Watch all the videos; Ventev Presents at MFD8
Final Thoughts:
It was a pleasure and an honor to be this event. Meeting all the incredibly smart and skilled delegates and vendors. Being able to directly ask questions and provide your feedback is an excellent opportunity. Many thanks to Tom and the Tech Field Day staff for the invite and all the vendors for sponsoring the event.